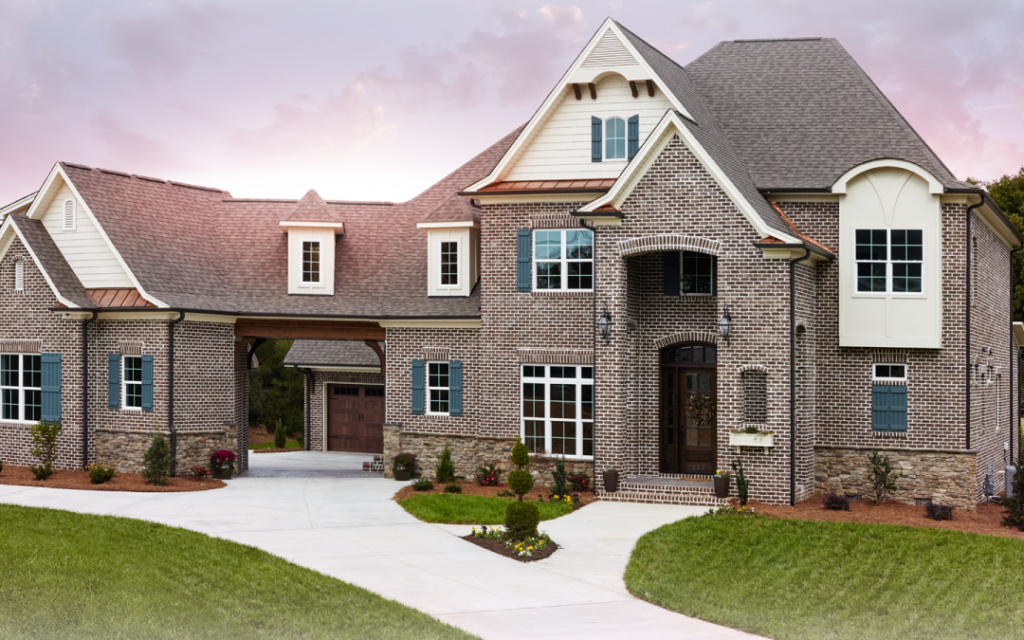 As soon as the fine weather arrives, the terrace and the courtyard become living spaces in their own right. Here are some suggestions for personalizing exterior decor spaces: inviting and comfortable.
1. Create a green curtain
Ivy planted in planters clings to the balcony railing, softening the cold look of the metal and creating the impression that the garden and the house extend into each other. The white furniture, always in good taste, leaves the spotlight to the vegetation which stands out with brilliance.
2. Install a soft lawn
The star of this contemporary layout, the artificial lawn offers a clean surface of a beautiful, sustained green, without requiring any particular maintenance. The grassy area is bordered by large gray stones which give a neat appearance to the exterior decor.
3. Create a privacy wall
In a large yard, living spaces can sometimes seem lost or be too exposed to view. The screen wall represents an efficient and aesthetic solution. In this vast layout with a swimming pool, a wooden slatted wall has been installed which delimits the lounge area while isolating it from the neighbors.
4. Install a nice bench
When the architecture lends itself to it, it is interesting to include a custom-made bench in our exterior decor. It's not very complicated to build, and you can then play around with the patterns, colors and textures of the cushions to brighten it up. On this terrace, the bench painted in black harmonizes elegantly with the covering of the house.
5. Create a wall garden
With its original asymmetrical shape, this wall planter is undoubtedly the focal point of the arrangement. This is an interesting way to dress up a wall by creating a painting in front of which we will want to linger. Moreover, there is currently a great craze for plants, which we like to install both outdoors and indoors.
6. Create a romantic stopover
A long, pretty tablecloth is enough to transform any table into an inviting space to share a meal outside. For exterior decor, you can put the furniture on the ground made up of a bed of pebbles and a few rectangular slabs. This easy-to-install siding works well in areas that are too shaded for sodding.
7. Daring urban art
This summer lounge is simply irresistible! To create this friendly atmosphere, you can rely on robust furniture, multiplied colorful cushions and introduced weather-resistant works of art, an emerging trend in landscaping.
8. Cultivate a screen of greenery
A green wall transforms any ordinary balcony into an extraordinary place. Contrary to what one might think, it is not difficult to maintain if the watering schedule is respected. Ideal for condominiums, this type of installation helps conceal concrete walls and dampens noise from the neighborhood.
9. Lay a nice trellis
In urban yards, we often opt for cobblestones or asphalt, but this contributes to the formation of heat islands. Honeycomb slabs are a more ecological option that also has the advantage of facilitating water drainage. You can grow grass or even thyme or clover. Aesthetically, it's superb: it almost looks like a carpet!
10. Decorate with a chic pattern
The exterior flooring contributes to the comfort, but also to the beauty of our summer living space. Once we have made sure that the product chosen is sustainable and adapted to our climate, we do not hesitate to be original. You can opt for a checkerboard installation, alternating gray and white tiles or, in a slatted version, simply by changing the orientation of the tiles. Visual interest guaranteed!
11. Arrange the inside outside
Placed out of the rain, under the roof, this day bed invites you to take a nap, especially since a mosquito net curtain has been installed. Some indoor furniture can easily be taken outside for the summer. This also applies to plants and small decorative accessories.
12. Enjoy a sunbath
Coupled synthetic rattan lounge chairs form a spacious "sofa" to share with the family! To create the perfect relaxation area, you can add comfort elements such as cushions, a parasol on foot and a side table to make your exterior decor amazing.
13. Daring a wave of blue
To create an environment of great consistency, we choose a single color, which we play in monochrome. Cool hues, like blue or green, will make the space appear larger than it actually is. On this small balcony, the composition has been refined by placing a carpet that completely covers the floor: the cocoon effect thus accentuates the feeling of well-being.
14. Have a flea market spirit
Giving color and style to your exterior decor does not necessarily mean big expenses. You can simply visit garage sales and flea markets to find pieces with nice lines that you can refresh with a coat of paint, if necessary, by betting on pastel colors that will give the space a relaxed atmosphere. Another idea to remember: at dusk, the light garlands will make the atmosphere even more magical, especially if you have the good idea to install them through the foliage.
15. Cultivate a scent of freshness
Strong trend in 2021: to grow herbs in the living area rather than in the vegetable garden at the back of the yard. In addition to embalming the terrace, they are always close at hand. Here, basil, rosemary, and company flourish in galvanized metal buckets attached to a wooden panel. Nice idea!