Johnny Depp is one of the most talented actors of our generation, known for his versatility and range in various film genres. With Netflix being the most popular streaming platform worldwide, many of Johnny Depp's movies are readily available for streaming.
Whether you are in the mood for an intense thriller or a light-hearted comedy, Johnny Depp's performances never disappoint.
Here Are the Top 7 Johnny Depp Movies on Netflix:
1. Pirates of the Caribbean: The Curse of the Black Pearl (2003)
One of the most iconic movies of Johnny Depp's career, Pirates of the Caribbean: The Curse of the Black Pearl is a perfect blend of action, comedy, and adventure. Depp plays the legendary pirate, Captain Jack Sparrow, who is in search of his lost ship, the Black Pearl. With excellent cinematography and special effects, this movie is a visual treat for all viewers.
2. Public Enemies (2009)
Set in the 1930s during the height of the Great Depression, Public Enemies is a crime drama that follows the life of notorious bank robber John Dillinger (played by Depp). The movie showcases his intense cat-and-mouse game with the FBI and is a must-watch for anyone who loves true-crime movies.
3. Donnie Brasco (1997)
Johnny Depp stars as an undercover FBI agent in the crime drama, Donnie Brasco. His character, Joseph D. Pistone, infiltrates the Bonanno crime family and befriends hitman Lefty Ruggiero (played by Al Pacino). The film is based on a true story and portrays the complex relationship between Pistone and Ruggiero.
4. Sweeney Todd: The Demon Barber of Fleet Street (2007)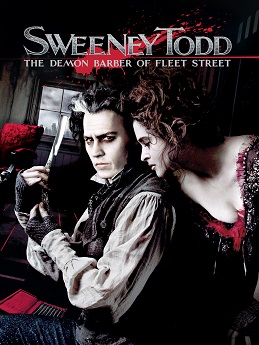 For fans of musicals, Sweeney Todd: The Demon Barber of Fleet Street is a must-watch. Depp plays the titular character, a barber who seeks revenge on those who wronged him. The movie is visually stunning, with dark and macabre undertones, and features some of the best music from composer Stephen Sondheim.
5. Alice in Wonderland (2010)
A live-action adaptation of the classic novel, Alice in Wonderland stars Johnny Depp as the Mad Hatter. The movie is a visual treat, with elaborate costumes and set designs, and Depp's performance is both whimsical and captivating. It is a great choice for anyone looking for a fantastical escape.
6. Blow (2001)
Blow is a biographical crime drama that follows the life of George Jung (played by Depp), a drug smuggler who rose to prominence in the 1970s. The movie shows the highs and lows of Jung's life, from his rise to wealth and fame to his eventual downfall. Depp delivers a standout performance, showcasing the complexities of Jung's character.
7. Dark Shadows (2012)
Dark Shadows is a horror-comedy that follows the life of Barnabas Collins (played by Depp), a vampire who has been buried alive for over two centuries. The movie is set in the 1970s and is a blend of horror, comedy, and romance. Depp's portrayal of Barnabas Collins is both humorous and captivating, making the movie a perfect choice for fans of dark comedies.
Conclusion
In conclusion, Johnny Depp has an impressive filmography, and Netflix has made it easier than ever to stream some of his best performances. Whether you're in the mood for a thriller, a musical, or a light-hearted comedy, Depp's movies on Netflix have got you covered. So, grab some popcorn, sit back, and enjoy some of the best performances of one of the greatest actors of our time.