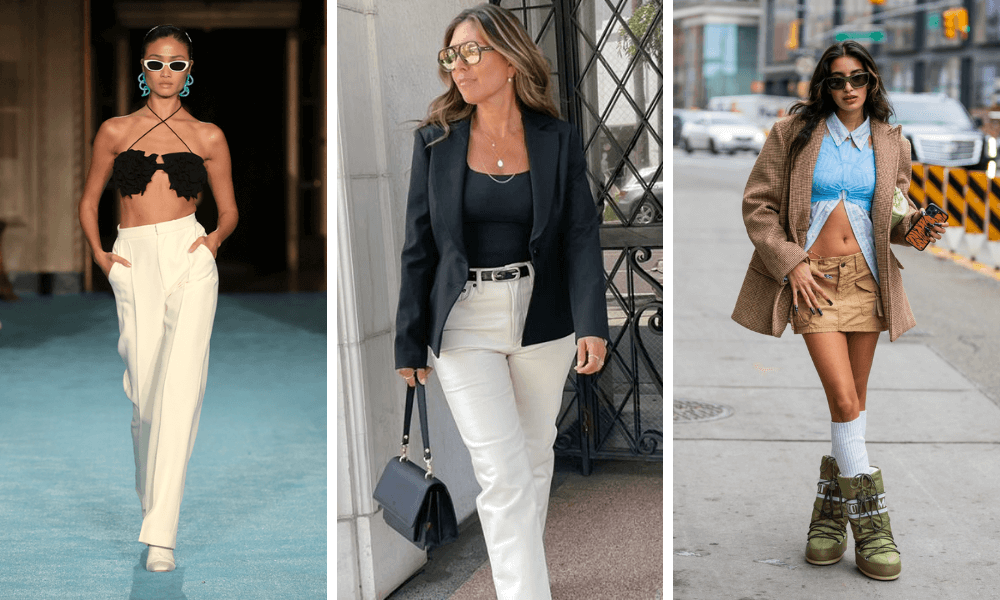 We propose to start this year with a list of current trends, which will come in handy in your wardrobe very soon. In 2022, micro-skirts that show off long legs and sculpted abs, biker leather jackets, extreme platform shoes, figure-hugging bodysuits, and minimalist and elegant white looks will be in fashion. We have collected 5 top spring-summer 2022 fashion trends that you already need to know about.
5 Popular Fashion Trends for 2022
Here are the top 5 fashion trends that you will see in trend this year.
Micro skirts
If in 2021 mini-skirts were in fashion, then in 2022, designers have diverged in earnest and presented micro-options. Perhaps the most provocative short skirt was shown by Miuccia Prada in her Miu Miu spring-summer 2022 collection. The designer suggested wearing a microscopic low-waist skirt paired with sweaters and shirts. Meanwhile, a small floral skirt appeared on the Christian Dior runway, and a metallic version in the Missoni collection.
Biker leather jacket
The classic biker jacket is a top favorite for spring outerwear. Choose from a light-coloured 1990s-inspired no-lapel from the Acne Studios collection, a distressed Prada leather biker jacket, or a Dolce & Gabbana biker style with studded shoulders and studded shoulders.
Extreme Platform
Shoes with an extremely high platform in 2021 smoothly appeared in the collections of brands and began to attract the attention of fashionistas around the world. Now everyone is definitely ready for the return of high platforms from the 1970s and incorporating this trend into their wardrobes. Saint Laurent showed ultra-high platform patent leather shoes with a thin stiletto heel, which were previously associated exclusively with the turbulent fashion of the 2000s, Moschino bet on glitter-studded platform sandals, and Versace placed loafers at extreme heights.
Sexy Jumpsuit
In 2022, tight dresses are replaced by sexy jumpsuits that follow the contour of the body. Celebrities have already tried this trend on themselves. Just think of Kim Kardashian's Balenciaga appearances: a black widow covert outfit on the Met Gala red carpet, a bright blue jumpsuit with a purple undertone at her friend's wedding party, or a black tight lace catsuit at the People's Choice Awards, where Kim received a gold figurine for the title of "Fashion Icon of 2021 ". Another fashionista who prefers sexy jumpsuits is Hailey Bieber. She celebrated her birthday in a Saint Laurent velor catsuit, and came to the gala dinner during Art Basel in a floral jumpsuit of the same brand.
White color
Refresh your wardrobe in 2022 with white, which evokes purity, elegance and minimalism. Apparently, designers are tired of bright colors and want to bring back the glory of classic white. At Fendi, you'll find a silhouette coat with a belted waist and loose trousers, at Valentino you'll find a relaxed pantsuit, and at The Row, you'll find wide leg white jeans and a wide-leg blouse.