If you are hungry now or planning to eat in the near future, we strongly recommend that you do not watch this post. Today we bring you the ten most disgusting dishes!
1. Balut
Balut is a boiled duck egg in which a fetus with cartilage and a beak has already formed. It is eaten mainly by the people of Cambodia. Those who have tried this disgusting dish note a particularly crispy taste (perhaps due to half-formed bones).
2. Hakarl
Hakarl is nothing more than Greenland shark meat rotten to the last muscle cell. Those who have seen and tried this dish note that the smell of pieces of meat resembles that reigning in unkempt public toilets.
Hakarl comes in two varieties: from a rotten stomach and from rotten muscle tissue. Hakarl is packaged for shops, like our squids for beer. Inexperienced eaters are advised to plug their nose at the first tasting, because the smell is much stronger than the taste.
It looks like a very spicy whitefish or Jewish mackerel. In Iceland, this delicacy is included in the mandatory program of festivities at Christmas and New Year. To eat rotten shark meat means to be persistent and strong, like a real Viking.
3. Casu marzu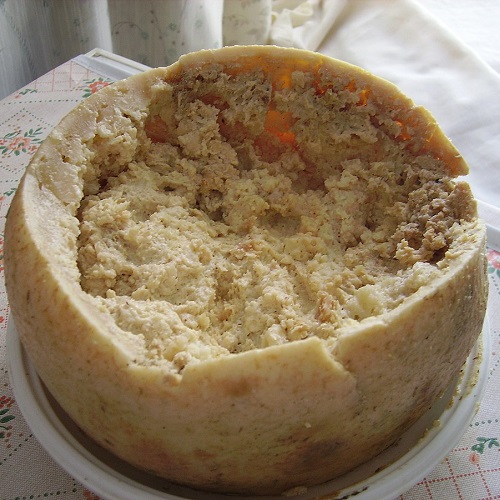 Casu marzu is a type of cheese produced in Sardinia. This "delicacy" is best known for the content of live insect larvae in it. The larvae are similar to small (up to 8 mm) worms in size. If disturbed, they are able to jump up to 15 centimeters. For this reason, those wishing to taste this cheese are advised to protect their eyes while eating.
4. "Live food" – Sannakji
Sannakji is a live octopus on a plate. In Korea, it is considered a great delicacy. You can see and choose an octopus in large aquariums, which are usually located at the entrance to the restaurant. While still alive, the baby octopus is sliced ​​and served, sprinkled with spices. 
While a person is eating, the tentacles continue to move and, if the jaws are not worked more actively, they can stick to the tongue.
5. Grasshoppers
In Cambodia, fried grasshoppers are one of the most popular dishes, but in general, it is one of the most disgusting dishes in the world. If we draw an analogy with Ukraine, then for the local citizens, grasshoppers are something like our seeds. They are eaten fried, preferably hot, in soy or fish sauce, sprinkled with plenty of red hot pepper.
The head and paws are best immediately separated along with the stomach. The taste is somewhat reminiscent of fried potatoes with a peculiar creamy, slightly sweet aftertaste.
6. Shrimp Odori Abby
The name of this delicacy can be translated as "dancing shrimp". When odori ebi – young crustaceans of the species pandalus borealis – enter a person's mouth with traditional sticks, live shrimp begin to tickle her tongue with their antennae and legs. It is considered pleasant.
Immediately before serving, the disgusting dish is poured with a special sauce prepared according to a secret Tokyo recipe.
7. Whale Meat Sashimi
Despite strict international taboos and restrictions, the Japanese continue to kill whales for meat that is soft, thin, and smells like goat.
Sashimi is made from raw kittyatini seasoned with wasabi, ginger and soy sauce. Whale sashimi tastes like raw redfish that has been out of the fridge for a couple of days.
8 Monkey Brain
Monkey brain as a dish is not only a tourist myth or an Indiana Jones scene: there are people who regularly eat raw monkey brains. In Cambodia, at the bazaar, you can easily and inexpensively buy a kilo or two monkey brains and eat right there, on the spot. No doubt, it is one of the most disgusting dishes, no one will find it strange or ugly when you eat it in Cambodia.
9. Sea urchin caviar
Caviar is extracted from prickly balls, which is contained in the sex glands – gonads. The bright orange substance is delicate in taste, but stinks a little. They get it by ripping open the hedgehog with a special device or just with scissors. Someone picks out the mass with a spoon, someone licks it off. Italian resorts organize special boat trips for connoisseurs of hedgehog flesh.
10 Frog Heart
Specially bred amphibians are kept in aquariums in restaurant kitchens. The client is offered to choose a fatter "piece" himself. In front of his eyes, the frog is skinned, the carcass is gutted, cut into pieces. The amphibian convulses, waving its paws right on the plate.
The disgusting dish is decorated with a still-living head with blinking eyes. Separately, the heart is served, which still continues to beat.
So, these are some of the most disgusting dishes in the world you might not even know about.